Patient Forms
If you are a new patient to our office, please visit our patient forms page to download our new patient bundle with forms that will need to be filled out when you arrive at our office. Printing them, filling them out and bringing them with you will allow us to attend to your medical needs more quickly than completing them on your arrival. Thank you and please contact our office if you have any questions at all.
Payment Options
We accept Visa, Mastercard, American Express, Discover, FHA card, cash, and checks. We offer third party financing in the form of CareCredit and also offer short-term, in-house, interest-free payment plan options.




---
Dental Insurance
Please call us to verify your insurance coverage and determine your benefits even if the company does not appear on the list below (often times, the carrier on your card is actually a subsidiary of one of the major carriers listed below….meaning you will be covered here). We accept most dental insurances, specifically PPO dental plans. Please see the list below for the insurance plans we accept. Handling insurance has always been a headache for patients and has not gotten any easier in the last ten years. This is why we handle all of your insurance needs for you by submitting all dental claims and keeping you informed!
Blue Cross Blue Shield of IL PPO
Delta Dental PPO
MetLife PPO
Dental Network of America PPO
Cigna PPO
Aetna PPO
United Healthcare PPO
Guardian PPO
Dearborn National PPO
DenteMax PPO
Financing Options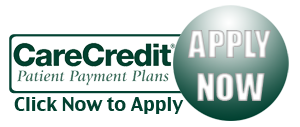 CareCredit is here to help you pay for treatments and procedures your insurance does not cover. They offer No Interest* financing or low minimum monthly payment options so you can get what you want when you want it. With three simple steps, including an instant approval process, it's easy to apply for Care Credit. After you're approved, you're free to use CareCredit to finance our services. Now you don't have to worry about saving up for the procedures you want and need. With CareCredit, the decision's in your hands to get what you want, when you want it. For more information or to apply online, visit carecredit.com Please contact our office if you have any questions regarding dental insurance, payments or financing options that are currently available. We look forward to serving you!
Frequently Asked Questions
Click Here to view some of the most frequently asked questions patients have about dentistry and oral health issues.